Tube laser cutting system with fiber source, capable of processing pipes up to ø220mm and open and / or closed derivative profiles.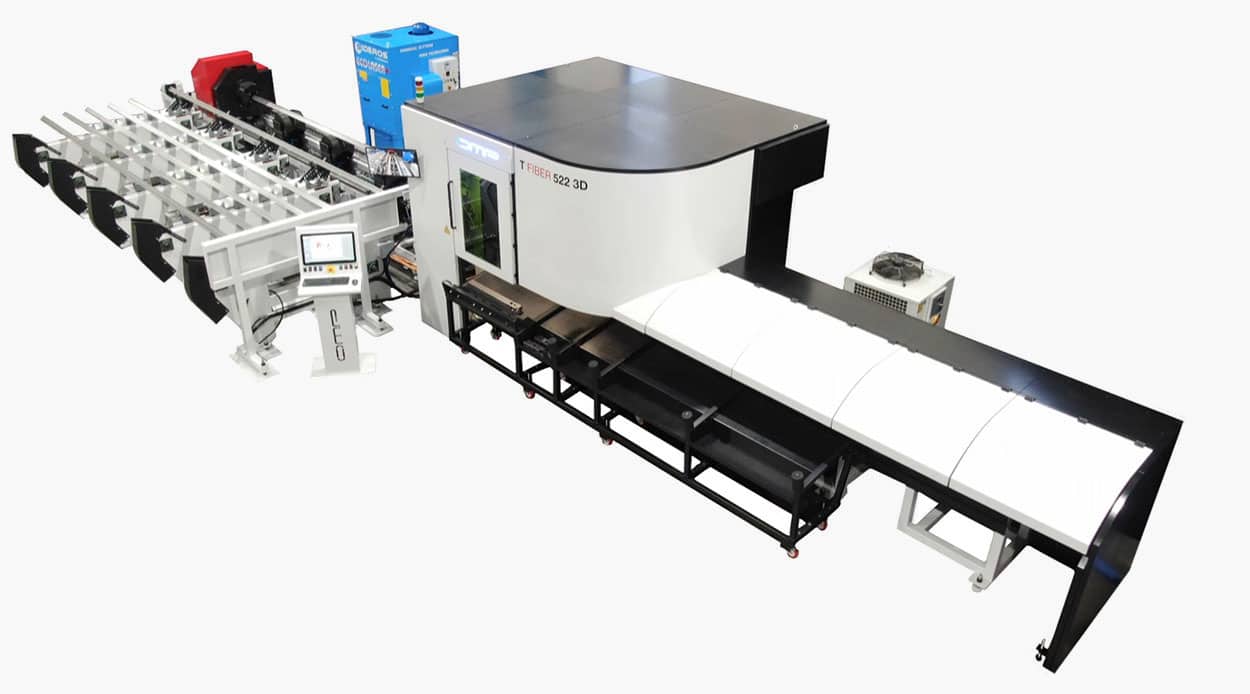 What are the advantages of fiber laser cutting?
The processing of the tubes with the laser machine is very convenient and reliable: the laser cutting allows to work the tube with extreme precision and speed, eliminating a whole series of processes that otherwise would need more 'steps (just think of cutting, drilling, machining of shaped geometries). The advantages are also very different, just think of the care and cleaning of the surfaces of the material, which does not have to go through several machines, thus remaining intact and without scratches and smears despite the production times are significantly reduced.
In addition, our laser can work different types of material without having to tidy up or change equipment in the machine.
Possibility of combining different types of automatic loaders capable of handling both closed and open profiles
Spindle with continuous 360 ° rotation, double griffe opening at both 45 ° and 0 °. Gas spring retention system with the possibility to decide the pressure on the pipe.
Hydraulic closing of the spindles controlled by proportional valve
Mobile spindle speed up to 120m / min •
Cutting head 2D or 3D model
Arm support tube trackers both on the load and on the exhaust
Fiber laser resonator with power 1000 kw / 2000 kw / 3000 kw / 4000 kw, others on request
Possibility to mount the source brand that best suits the customer
Multi-load system
Programming through standard G-code, integrated CAD / CAM solution with the possibility of importing pre-existing pipe models, integrated drawing system, optimization and nesting of the pipe
32 "display to follow the machining inside the machine during the work phases
| | | |
| --- | --- | --- |
| TECHNICAL SPECIFICATIONS | TF120 | TF220 |
| Dimensions | 14.700×5.000×2.600 | 14.700×5.000×2.600 |
| Total power installed ( source not included) | 16 kw | 16 kw |
| Round tube capacity mm | Min 15  max 120 | Min 15 max 220 |
| Square tube capacity mm | Min 15×15 max 90×90 | Min 15×15 max 160×160 |
| Rectangular tube capacity mm | Min 15×20 max 120×40 | Min 15×20 max 200×10 |
| Standard loading lenght | 7000 mm (others on request) | 7000 mm (others on request) |
| Loading | CM with belt, model CP , combined CM-CP | CM with belt, model CP , combined CM-CP |
| New tube loading time | 50 seconds | 50 seconds |
| Working speed  min/max mm/min | 150/35.000 | 150/20.000 |
| Positioning speed axe X and Y mm/min | 100000 | 80000 |
| Acceleration mm/sec2 | 19600 | 9800 |
| Spindle turning speed degree/second | 600 | 360 |
| | | | |
| --- | --- | --- | --- |
| Laser source                | | | |
| Power  kw | 1 | 2 | 3 |
| Absorption max kw | 4 | 8 | 12 |
| Cutting capacity mm | | | |
| Carbon steel | 0.8-5 | 0.8-10 | 0.8-15 |
| Stainless steel | 0.8-3 | 0.8-6 | 0.8-8 |
| Aluminium | 1-3 | 1-6 | 1-8 |
| Brass | 0.8-1 | 0.8-4 | 0.8-6 |
| Copper | 0.8-1 | 0.8-2 | 0.8-3 |